Importance of Health and Safety Training
How to make safer behavior a habit for your workforce

In the Benefits of Occupational HS article you learned that the construction industry is a high-risk industry. Of course, you cannot change the whole industry but investments in occupational health and safety (OHS) are key to mitigate the dangers.
One lever to generate positive change in health and safety in your organization is to implement impactful health and safety (H&S) training programs.
But before we explore what impactful H&S training looks like, let us first understand some of the main reasons why accidents happen and the role behavioral-based safety approaches and trainings play in creating positive health and safety outcomes.
What causes accidents?
When it comes to health and safety on construction sites, various factors have a significant impact on the occurrence of accidents and work-related health problems: human factors, equipment, organization and leadership, and the work environment.
The behavior of jobsite teams, faulty or improper equipment, inadequate organizational structures (such as poor planning and inadequate guidance), or a potentially hazardous working environment, represent examples of these four factors. Depending on the type of accident, one or more of these factors may be at play.
Research has shown that human factors account for a big part of accidents at construction sites (e.g. GIBB et al. 2014). This makes it essential that safety processes target the root cause of accidents, which is where Behavior-Based Safety comes in.
Behavior-based safety approach
Behavior-Based Safety (BBS) is the application of behavioral science and analysis to the field of occupational safety. The idea behind BBS is that employees adopt safer work practices and reduce unsafe behavior.
Within BBS, behavior is explained and analyzed in terms of the ABC model (antecedent, behavior, consequence). The model describes the different elements that affect human behavior.
The major objective of an effective behavior-based safety process is to make safer behavior a habit. Training is one of the focus areas of safety programs. According to the 2017 report from Doge Data & Analytics on construction safety management, almost 80% of companies have some form of H&S Training.
Let's focus on the element of training and how it must be designed to trigger positive behavioral change. It is important to understand how people learn best.
WHAT'S KEY TO SUCCESSFUL TRAINING AND LEARNING?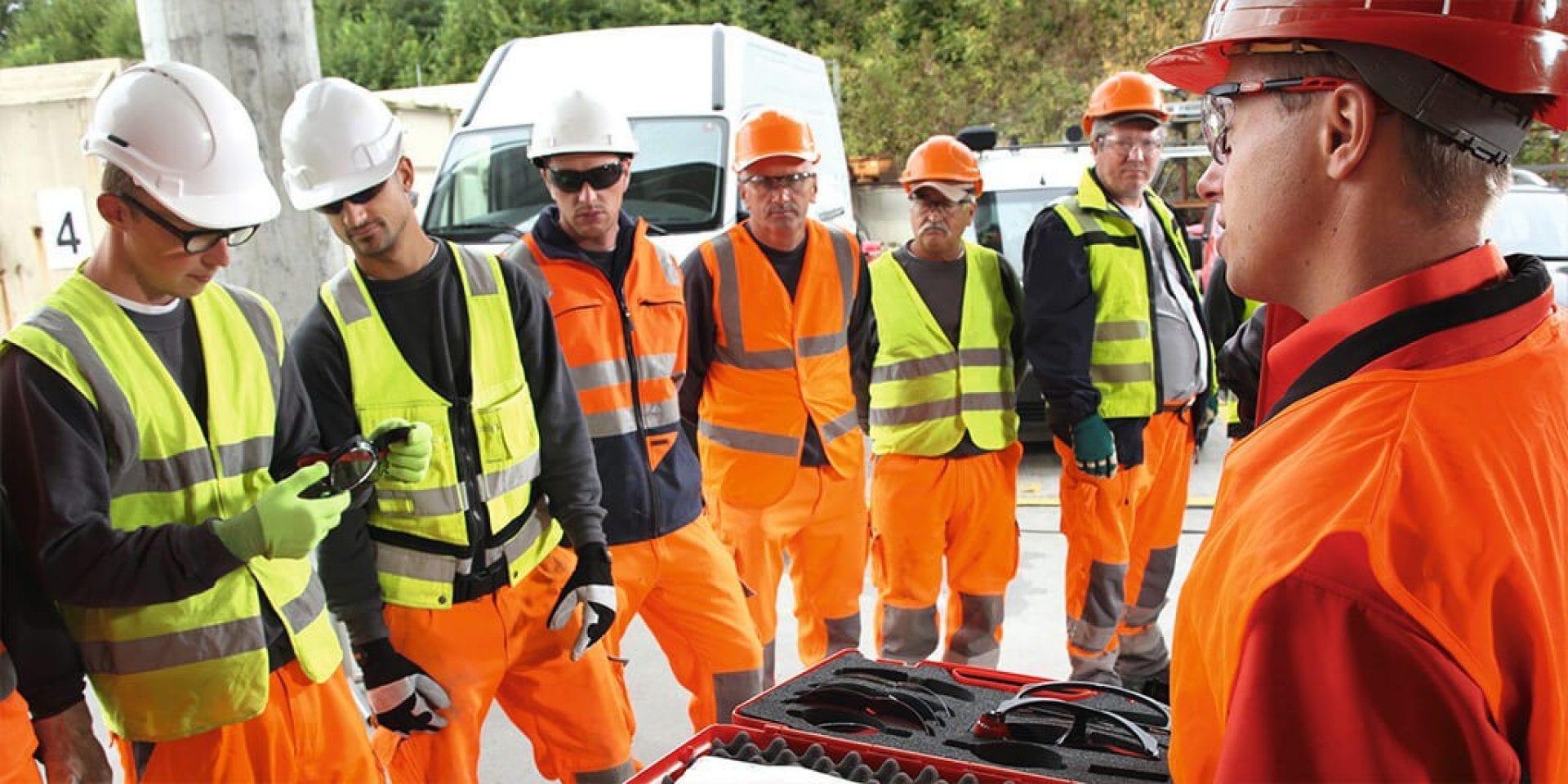 Successful safety training and learning means that content is delivered in such a way that it anchors the topic sustainably, initiating a change towards safer behavior. Studies on learning theory state that some of the key success factors in training delivery are relevance of content (personal relation to topic); news factor (learning something new); interactivity and hands-on (possibility to experience); video/media support (to cater to different learning types) and humor (increase engagement and memory).
Safety trainings should not be a one-time event. Psychologist Herman Ebbinghaus analyzed that repetition of safety training content is key to reinforce stickiness of facts. If content is not repeated, up to 80% will be forgotten one month later.
Training formats should represent the learning needs of the target group. Face-to-face trainings offer a multitude of advantages, such as the power of sharing personal stories, exchanging experiences, or discussing in the group. However, the demographics within the workforce of construction companies – as in other industries – are changing and digital learning formats are becoming more and more attractive.
And finally, successful training and learning is supported if management "walks the talk", which means that the organization throughout all levels lives the values of safety.
When it comes to Health and Safety trainings – Hilti is your partner!
Your concerns are also our concerns. Hilti helps construction companies make positive health and safety changes. Since 2014, tens of thousands of employees worldwide have increased their competence and productivity in Hilti H&S training by learning about new and safer ways of working.
Our training sessions have been designed to reflect the qualities desired by HSE Managers and are characterized by the following features:
H&S training sessions are delivered at a location convenient for the participants
Increased participation through small group size and compact training sessions
Every Hilti H&S training module works with exclusive hardware that let participants experience the consequences of safer and unsafe behavior
Quality training based on decades of expertise in the industry
Training programs can be tailored to any company's specific needs
A certified trainer carries out the courses, and provides certification of your employees and professional documentation
Our key initiatives relating to health, safety and the environment